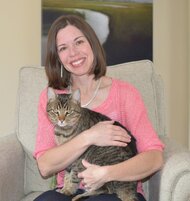 We are proud to partner with East Tennessee Veterinary ultrasound to provide advanced ultrasonography in the Maryville area. This partnership allows us to offer state-of-the-art digital ultrasound technology. Dr. Laura Devlin Bacon, DAVBP with ETVETUS, will be performing comprehensive abdominal, cervical, and thoracic ultrasounds, as well as echocardiograms with both color and spectral Doppler.
A trusted expert in the field, Dr. Laura Devlin Bacon has been working extensively with ultrasound since 2001, in both a general practice environment as well as a specialty center. With over 180 hours of specific ultrasound instruction and a year-long advanced training under her belt, Dr. Bacon partners with cardiology, radiology, and internal medicine specialists to provide advanced diagnostics. If you would like more information please visit www.etvetus.com.
Veterinarians referring a case can use the link below.  Once your referral has been emailed, the staff at Southwind Animal Hospital will contact your client to schedule the earliest appointment time. 
Refer a Case