Our Doctors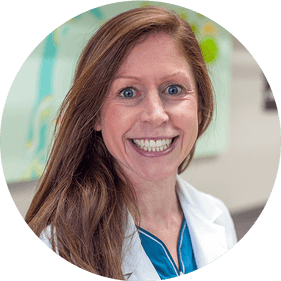 Deborah Hicks, DVM
Dr. Deborah Hicks is a native of Chattanooga, Tennessee, but has called Knoxville her home since 1997. She obtained her Bachelor's Degree from the University of Tennessee in Biochemistry and Molecular Biology in May 2003 and is a 2008 graduate of the University of Tennessee College of Veterinary Medicine. Following her graduation, Deborah completed a one-year rotating surgical and medical internship at Oradell Animal Hospital in Paramus, New Jersey. She has been practicing and advancing her veterinary career in Maryville, Tennessee since late 2009.
Deborah is the mother to two crazy, alien offspring: Caroline and Jack. She is also the wife of an even crazier daredevil, superhero, Dr. David A. Hicks. He somehow managed to get two doctorates, but that doesn't change him from living like his childhood self and trying to create a master plan for faster acceleration and making the tallest ​handmade toys.
The Hicks family has four sweet fur babies of their own but carry a long list of special animals that have touched their lives throughout the years. As a family, they are not afraid to go anywhere as long as they can explore the outdoors with a magnifying glass, have bicycles and a bug box on hand, hear excellent music and surround themselves with good company. Deborah looks forward to meeting established and new clients at Southwind Animal Hospital. She hopes to create lifelong relationships and will enjoy the special opportunity to care for and befriend your beloved pets.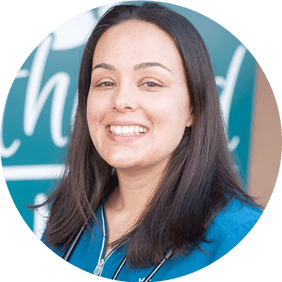 Lauren Zachary, DVM
Dr. Lauren Zachary was born and raised in Southern California, where she began her hobbies of swimming and snowboarding. She earned her Bachelor of Science degree in Biology from the University of California, Irvine before moving to Knoxville to attend the University of Tennessee College of Veterinary Medicine, where she obtained her doctorate degree in 2012. She fell in love with the culture and community of East Tennessee and decided to make this her home. She still visits Southern California often and enjoys the beaches and warm weather. Dr. Zachary is married with one child and several fur babies. She has been working in the Maryville area since 2013 keeping our local pets happy and healthy. She is very excited to be a part of the Southwind Animal Hospital team and to continue the excellent care provided to our clients and their pets.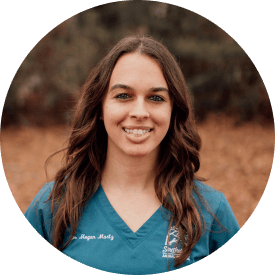 Megan Martz, DVM
Dr. Megan Martz grew up in south central Pennsylvania. She earned a dual degree in Biology and Animal Science at the University of Findlay in Ohio. During this time, she was a part of the cross country and track & field team for distance running. Megan moved to Knoxville, Tennessee and obtained her Doctorate of Veterinary Medicine degree from the University of Tennessee College of Veterinary Medicine. Dr. Martz fell in love with the outdoors in East Tennessee and has thoroughly enjoyed white water rafting, kayaking and hiking. In her free time, she is found at the gym training for Spartan Obstacle course races. Dr. Martz is ecstatic to be a part of this amazing team and cannot wait to meet you and your pets. She has a special interest in ophthalmology and surgery.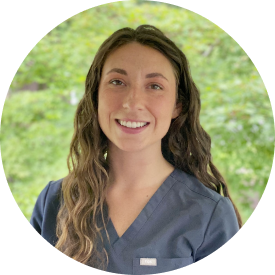 Ashley Forbeck, DVM
Dr. Ashley Forbeck grew up in Apison, TN, not far from Chattanooga. She was interested in working in the medical field, and when she was a senior in high school, she got her own dog, Kiya. After one of her pup's vet visits, she knew she wanted to be able to take care of anything Kiya needed herself. The bond she formed with Kiya encouraged her to become a veterinarian so she could take care of animals and be their advocate.
 
Dr. Forbeck studied biology at the Chattanooga State Community College and the University of Tennessee at Chattanooga. She applied to veterinary school when she completed the pre-requisites and graduated from the University of Tennessee College of Veterinary Medicine in 2023. Her veterinary interests include soft tissue surgery and radiology. Dr. Forbeck is Fear Free certified, and she joined our team in 2023. She loves helping people and their animals; whether her patients are sick or visiting for a wellness appointment, she loves caring for them and giving their owners peace of mind.
 
Dr. Forbeck shares her home with Kiya, a Husky mix; Chako, a mixed-breed pup; Ophelia, a spicy calico DLH, and Richie, a large and in charge orange DSH. In her free time, Dr. Forbeck enjoys anything on the water – kayaking, boating and paddle boarding. She also enjoys finding new restaurants around Knoxville for brunch and occasionally hiking when the weather is nice. 
Our Staff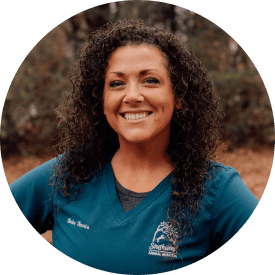 Becka Harris
Becka was born and raised in Orlando, Florida. She attended the University of Tennessee and graduated with a bachelor's degree in Animal Science with a focus in Veterinary Medicine. She is currently enrolled in a distance learning program at Purdue University to complete her veterinary technician degree and plans to apply her knowledge and expertise to benefit the patients at Southwind Animal Hospital.
Becka resides with her husband Craig, daughter Aubrey and son Caleb. They have one rambunctious dog, Burnie, and a cat named Fonzi.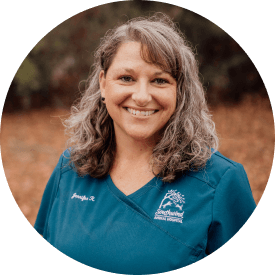 Jennifer Ratledge
Jennifer was born in California, moved all over the country before finally settling in Maryville. She has been in the field since 2012 as a Vetrinary Assistant. She is married to her husband Dave and has a wonderful yorkie-poo named Henry. One of Jennifer's greatest achievements is having completed an ultra-marathon (50 miles!), and she keeps on running!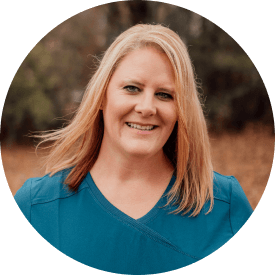 Jaime Deck
Jaime was born in Illinois, moved to Florida as a child and finally moved to Tennessee in 2017 where she had always wanted to live. She loves to visit Cades Cove anytime of year and enjoys boating with her family and her sassy German Shepherd Anya Grace. Jaime works full time as a Product Manager for a technology company and works with us on the weekends and any other time she can spare.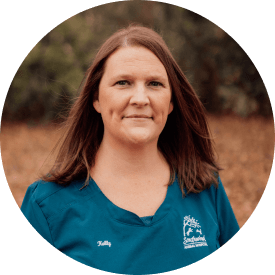 Kelly Ortagus
Kelly has worked in the veterinary field since 2014. In that time, she has worked in general practice, referral and emergency medicine. She is currently enrolled in Penn Foster's Certified Veterinary Practice Management Program and is working toward her certification. Outside of work, she loves to spend time with her family and pets and spend as much time as she can boating.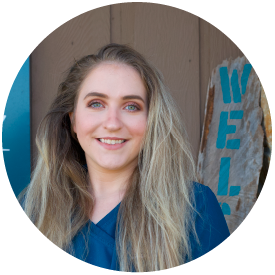 Sarah Price
Sarah began as one of our volunteers from Heritage High School. She is currently enrolled at the University of Tennessee where she is majoring in Animal Science. She is a proud alumnus of the Heritage Future Farmers of America and received her American Degree at the National FFA convention. She has 2 dogs named Bear and Ghost and a cat named Mouser.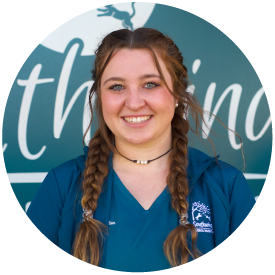 Rachael Hamilton
Rachael was born and raised in Maryville, Tennessee. She obtained her Bachelor's degree in Animal Science from the University of Tennessee. She is now a veterinary student at UTCVM in the class of 2025. She loves doing anything outdoors and spending time in the mountains. She also has a Goldendoodle named Toby.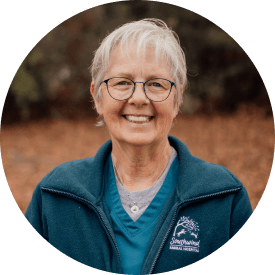 Sandy Rapey
Sandy, her husband and their dogs moved to Maryville, TN from Wisconsin in 2020. Sandy enjoys competing with her dogs in agility, barn hunt and nose work. Their family currently consists of an Australian Shepherd and 3 Border Collies.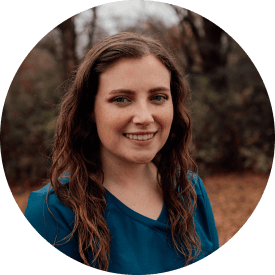 Makayla Strickland
Makayla was born in Maryland and moved to Tennessee when she was in the 3rd grade. She has been working in the vet field since 2016. She loves doing anything outdoors, going to church, and spending time with her family, friends, and her dogs Daisy and Ranger.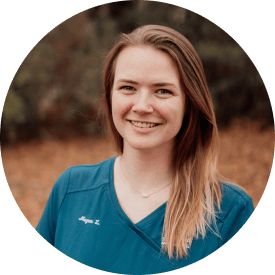 Megan Lambert
Megan was born and raised in Memphis and now lives in Knoxville, TN. She obtained her bachelor's degree in Animal Science at The University of Tennessee and is planning to pursue a career as a veterinarian. Megan and her boyfriend Thomas have a dog named Lucky who joins them on all of their adventures.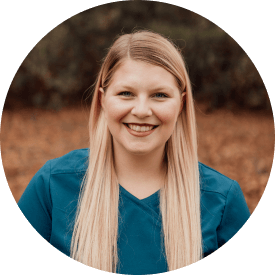 Bailey Knight
Bailey was born and raised in Knoxville, Tennessee and now lives in Seymore with her husband Dalton, daughter Khloe and bulldog Fawn. She has always been passionate about working with animals and loves learning new things every day to further her vet med education. Bailey's goal is to attend technician school in the near future.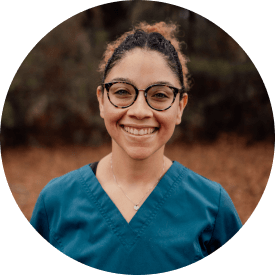 Ciara Johnson
Ciara, a recent  resident of Tennessee, attended Liberty University and graduated with a Bachelor's degree in zoology. She is planning to become a veterinarian through UTCVM in the near future. She loves to travel abroad and experience different cultures and food. She has a rescue pitbull named Nola who loves to run and kangaroo jump!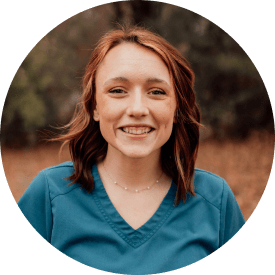 Chandler Street
Chandler moved to Maryville from Illinois in 2022. She obtained her Bachelor's in biochemistry and plans to continue to vet school. Chandler and her boyfriend Drew have a dalmatian named Skye and two cats Edgar and Harmony.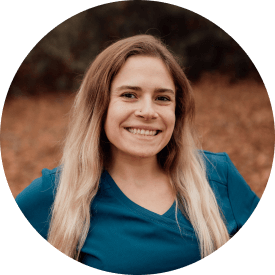 Emily McGuire
Emily has been in veterinary medicine since 2021. She was born and raised in Maryville, TN. Emily loves the outdoors, hanging out with friends and family, and her pets – two blue heelers Kaci and Dexter and her siamese Diddy. She loves the friendships she has built not only with our clients, but patients as well. Emily plans on furthering her education in veterinary medicine, but is currently undecided on what degree she would like to pursue.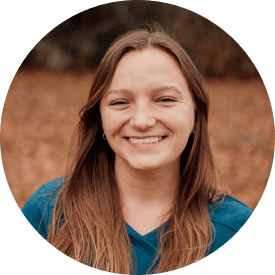 Hannah Pontzer
Hannah was born in Pennsylvania, raised in Florida and just recently moved to Knoxville Tennessee. She graduated from Florida State University with a B.S. in medical science and plans to pursue a career as a veterinarian. She loves to rock climb, mountain bike and kayak in her free time.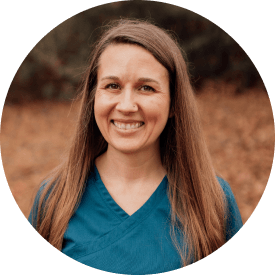 Samantha Conn
Sam grew up in Colorado and then spent 10 years living in France before returning to the US. When she isn't working, studying for classes, or running her children around to their various activities, she loves spending time with her children in the mountains or visiting family.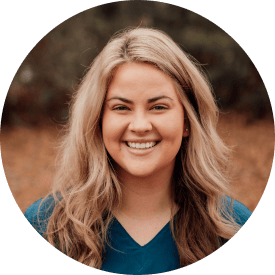 Caroline Roy
Caroline has been in veterinary medicine since 2016. She loves her job and what she does and all of the relationships she has built with clients and their pets. In her free time, she loves to spend time with her fiancé Peyton and her two chocolate labs Cooper and Jensen.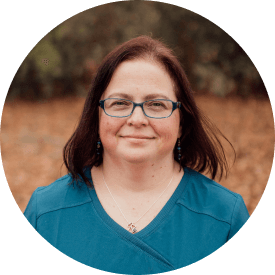 Rhonda Wright
Rhonda has been married to her husband David for 25 years and resides in Maryville. She has a love of animals, so much so, that they have 8 rescue dogs (and she would have more if she could). She enjoys a variety of music styles, sci-fi movies and reading.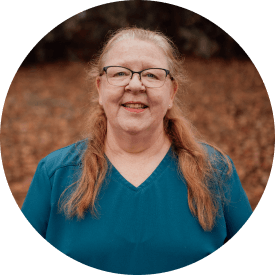 Theresa Passons
Theresa was born and raised in Connecticut. She was a teacher until moving to Maryville in 2022. She has a kitten named Manouche and loves the mountains and the people of Tennessee.