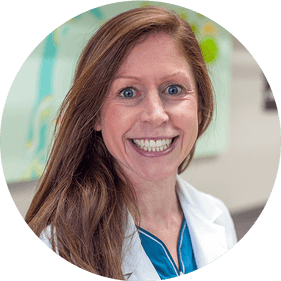 Dr. Deborah Hicks is a native of Chattanooga, Tennessee, but has called Knoxville her home since 1997. She obtained her Bachelor's Degree from the University of Tennessee in Biochemistry and Molecular Biology in May 2003 and is a 2008 graduate of the University of Tennessee College of Veterinary Medicine. Following her graduation, Deborah completed a one-year rotating surgical and medical internship at Oradell Animal Hospital in Paramus, New Jersey. She has been practicing and advancing her veterinary career in Maryville, Tennessee since late 2009.
Deborah is the mother to two crazy, alien offspring: Caroline and Jack. She is also the wife of an even crazier daredevil, superhero, Dr. David A. Hicks. He somehow managed to get two doctorates, but that doesn't change him from living like his childhood self and trying to create a master plan for faster acceleration and making the tallest ​handmade toys.
The Hicks family has four sweet fur babies of their own but carry a long list of special animals that have touched their lives throughout the years. As a family, they are not afraid to go anywhere as long as they can explore the outdoors with a magnifying glass, have bicycles and a bug box on hand, hear excellent music and surround themselves with good company. Deborah looks forward to meeting established and new clients at Southwind Animal Hospital. She hopes to create lifelong relationships and will enjoy the special opportunity to care for and befriend your beloved pets.